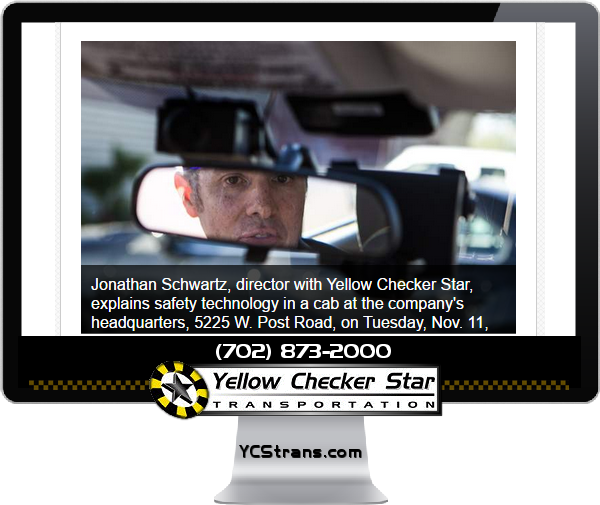 Jonathan Schwartz, director with Yellow Checker Star, explains safety technology and why drivers are safer than Uber because of training
YCStrans.com | Las Vegas, NV
Jonathan Schwartz, a director for Yellow Checker Star, the second largest taxi company group in Southern Nevada, viewed the turmoil growing up as the son of a Las Vegas taxi company executive.
"The Taxicab Authority was formed as a result of a tumultuous time in the taxi industry known as the 'taxi wars,' " Schwartz said in a recent interview.
"Taxis were essentially unregulated prior to that period and the environment was characterized by fighting among drivers for fares, poorly maintained vehicles, lack of insurance, lack of background checks and a host of other issues," he said. "Due to the problematic service, the casino industry, in part, demanded that the taxi industry be regulated. The TA is now the foundation of the most stringent set of regulations in the U.S. taxi industry, which accepts nothing short of operational excellence."
Schwartz is quick to point out that the state's regulatory system is built around passenger safety — and companies such as Uber are no match to the safety protocols companies such as his have built over the years. Schwartz can't even bring himself to call them "ride-sharing companies," preferring to refer to them as "transportation network companies" or TNCs.
"Without regulation and constant oversight by the Taxicab Authority that the TNCs reject, service to Las Vegas' tourists would decline dramatically," Schwartz said. "Uber will attempt to obtain a carve-out set of rules for itself from the Nevada Legislature, which is truly just an expense-reduction ploy that will erode Nevada's public safety-focused model."
Schwartz said there's nothing "sharing" associated with the Uber model.
"They are a transportation company, plain and simple," he said. "They're charging a fare. They're transporting people from place to place. They completely meet the definition of a common carrier under the law. 'Ride-sharing' must have been something that some bright advertising or PR person came up with."
Want To Learn More?
Visit the full article on the Review Journal at:
http://m.reviewjournal.com/news/traffic-transportation/taxi-wars-60s-predate-today-s-stand-uber (Opens in New Window)
Stay Informed & Get Involved
Follow Yellow Checker Star Transportation on Facebook
Did you know we are on Facebook? To help keep you updated, be sure to LIKE & FOLLOW US on Facebook!